Peer Helpers

Each high school in Covington County has a Peer Helper program. The program is comprised of a group of high school students and one faculty advisor. Schools select their Peer Helpers in different ways, some of which require an interview for admission into the program. Each program identifies the needs of its student body and organizes ways in which to make each campus better. Peer Helpers must be drug and alcohol free and have the desire to promote positive lifestyle decisions to their peers. Throughout the school year, Peer Helpers head campaigns against underage drinking, tobacco, bullying, etc. They promote leadership, involvement, and kindness to other students. They also mentor fellow students who seek their assistance with personal issues. Peer Helpers offer tutoring services to middle and high school students.
Youth Leadership Conference

The Youth Leadership Conference is an annual training event for high school Peer Helpers. It is a time in which groups from all six high schools come together to participate in a training from a National Peer Helper Trainer, share activities they have in their schools, and collaborate and plan a Town Hall Meeting.
Religious Leaders Symposium

The Coalition sponsors an annual Religious Leaders Symposium. All local church leaders are invited and encouraged to attend the meeting. Our Coalition chairman, Judge Frank "Trippy" McGuire, speaks with the group on the importance of implementing substance abuse prevention into their religious programs. The most recent PRIDE survey results are also discussed among the group, which reveal results including the percentage of youth who have come in contact with drugs, tobacco products and alcohol.
Prescription Take Back

In October of each year, the Coalition holds Prescription Pill Take Back events. Community members are encouraged to drop-off any unused and expired medications, both prescription and over-the-counter, for free and safe disposal. No questions are asked and no information is required of participants wanting to rid their homes of medications. Participants are asked to bring their medicine to a specified drop-off location, usually a local pharmacy, where Drug Task Force agents collect and later dispose of them in a proper and safe manner. The Drug Task Force plays a vital role in the success of the program. The efforts of healthcare facilities, pharmacies and their staff, local media outlets, and community members are also major components of this event. The Alabama Clean Water Partnership is heavily involved as well. They bring awareness on the dangers of releasing medications into our water system for disposal.
Kids Against Prescription Pills (KAPP)

The Drug Task Force visits the county's middle school students and addresses them on the dangers of misusing prescription pills. The program has two components: a talk by a Drug Task Force agent and a testimony by a former user and family member of a user. DTF agents bring the students information on how to properly use medications and what to do if they know of someone who is wrongly using them.
Prevention Billboards

Prevention billboards on the topics of drugs, alcohol, prescription pills, tobacco, and leadership are placed throughout the county. Billboards are designed by Coalition staff, Coalition members, and youth. They offer unique graphics and positive messaging on our county's roadways.
Postcards
The Coalition sends informational postcards to the homes of every 6-12th grade student in Covington County. These postcards (shown below) provide valuable information to parents and students regarding the dangers and signs of marijuana use.

Guest Speakers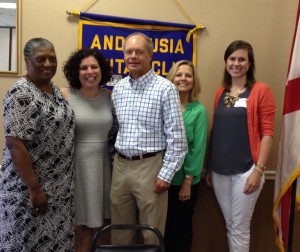 Pictured from left to right: Lena Boswell, Andalusia Civitan Club President; Dr.Shannon Murphy;  Judge Frank "Trippy" McGuire; Susan Short; and Jessie Stephens
Dr. Murphy was the speaker and guest of the Civitan Club on Friday, August 21, 2015.
Dr. Murphy, a Pediatrician in Birmingham, Alabama, shared with the group the dangers of marijuana particularly as it effects our youth.
Dr. Shannon Murphy, MD, FAAP, is a board certified Pediatrician, the Southern States Coordinator for Project SAM, and the Executive Director of SAM Alabama. On a national level, Dr. Murphy serves on the American Academy of Pediatrics Practice Advisory Committee on Adolescent Substance Use. Dr. Murphy did her undergraduate work at Vanderbilt University, and she received her medical degree from Emory School of Medicine. She worked for over 10 years as a primary care pediatrician in a community group practice in Birmingham, Alabama. Currently, she volunteers her time working in drug education. She has created a school-based Q & A lecture for middle and high school students regarding marijuana, and she is actively involved in developing education based community outreach programs throughout the state. Dr. Murphy lives with her husband and their three children in Homewood, Alabama.